FEATURED CO-WORKING SPACE
GalloWorks is the place where you can connect, create, collaborate and grow. Whether you are an entrepreneur, an individual or own business, our co-working space is designed to cater to your specific needs and provide tremendous growth opportunities.
Are you ready to take your team's productivity to the next level? We are, and we have the perfect space for it.
Whether you're looking for a place to hold a team meeting or a conference, we have rooms for all needs. Our meeting rooms can accommodate 1-30 guests at once, but if you need something bigger we've got that too! Our multi-purpose room is 1,674 square feet, and it can be used in a classroom style, workshop style, or even as a networking event space. We want to see your organization succeed, That's why we offer meeting spaces at reasonable rates. Just choose your room and dates, and book today!
Office Space For Professional Achievers
GalloWorks is a community for professionals who are seeking an environment in which to grow, learn and thrive. We provide a space for our members to pursue their passions and develop unique skillsets, while also providing them with opportunities to collaborate with like-minded individuals.
Basic Access Membership
Our mission is to provide our members an environment to create and innovate. That's why we are opening the door for part-time access memberships on a trial basis.
$95.00/per week
All Access
Our All-Access Membership is designed for entrepreneurs, individuals, and students. It provides you with access to workspaces, meetings, and conference rooms.
$350/per month
Dedicated Desk
Access to a dedicated desk on a specified GalloWorks floor
$500/per month
Private Office
Enjoy the top-level access to this private office, located on the fifth floor of a freestanding building in the galleria area of Houston. Just minutes from major freeways and walking distance to a number of dining options. Starting at $1,825 per month, this office is perfect for any individual or a small business owner.
$1,825.00/per month
Virtual Mailbox
Access to GalloWorks facility address and a dedicated virtual mailbox
$100.00/per month
Virtual Office
A virtual office is a great way to establish a professional presence at a fraction of the cost. Our virtual office package includes 6 hours of meeting room use and a virtual mailbox, which gives you an address at our business center that you can use for your marketing and legal purposes.
$250.00/per month
Business Phone Line
Get a dedicated business number and your choice of a local or toll-free area code. Establish your brand, grow your business, and make work simpler -all in one place.
$50.00
Day Pass
Access the location for a day
$50.00
Conference room rental
Real-time availability for all our meeting rooms. Request and manage bookings online.
We are so much more than a workspace. We offer a variety of services to help you and your business grow.
Here's a look at a few services we offer:
Website Hosting and Development
DNS Services
Content Creation
Marketing / SEO
Business Plans / Business Development
Notary Services
Virtual Mailboxes / Virtual Offices
Dedicated Business Lines / VoIP Services
2425 West Loop South 5th Floor Houston, TX 77027
Downtown Houston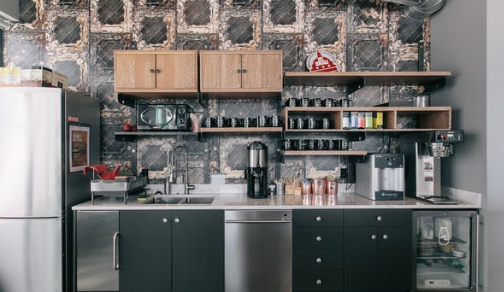 Credit: WeWork
WeWork's newly opened Houston office is as stunning as their shared spaces in cities like New York, Chicago, and Austin. This 24/7 accessible office space is famous for their professional workshops and networking events. WeWork members come from all different kinds of companies and careers, not specializing in a specific area.
Location: 708 Main Street
Price: $250 for regular membership; $455 for a personal desk; $655 private office
Perks: Available parking, bike storage, front-desk service, soundproof phone booths, business-class printer, office supplies, coffee, fruit water, professional workshops, mothers' room
Hours: 24/7
Dedicated to technology startups, Station Houston works to bring members of the Houston tech community together. One Station member, founder and CEO of SnapStream Rakesh Agrawal, said that the workspace solves Houston's biggest issue: people are too spread out and don't know each other. Station hosts membership events as well as provides them with mentors in their fields.
Location: 3101 Fannin Street, Suite 2440
Price: $150 individual membership; $200 for startups; $250 for a community membership; and additional pricing for add-ons available on their website!
Perks: Community events, educational programs, digital community option, connections to experts in your field, mentorships
Hours: Monday through Friday 8 a.m. to 6 p.m. (but certain memberships have 24/7 access!)
Midtown
HTC's mission is to bring technology and business entrepreneurs together to advance each other's work and help innovate new ideas. The tech INCUBATOR is a 501(c)(3) nonprofit who has been financially supported by the Texas Medical Center, NASA, the City of Houston, and more. They work with over 93 companies to create networking opportunities that may not exist otherwise.
Location: 410 Pierce Street
Price: $150 for a basic membership
Perks: Reception area, lobby for visitors/clients, onsite IT service, unlimited conference room use, event center holding up to 200 people, 10 executive meeting rooms, networking with other technology companies
Hours: 24/7
This workspace gives the ultimate homey vibes, considering it's inside an actual house (a beautiful blue one!). Your typical dining room, sunroom, and living area have been transformed into shared workspaces with desks, chairs, and computers for working and couches, bean bags, and porch swings for lounging. Wi+CoWork feels like you never left home — if your home were somehow stocked with all necessary office supplies.
Location: 2502 La Branch Street
Price: $120 for business hours coworking membership; $150 for 24/7 coworking membership; $240 for a personal desk; $1,500 for private office
Perks: Full kitchen, projector, whiteboard, on-site parking, bike rack, reception area, printing available, filtered water, Colombian coffee
Hours: 24/7 for most memberships, 9 am to 5 pm for basic membership
Theater District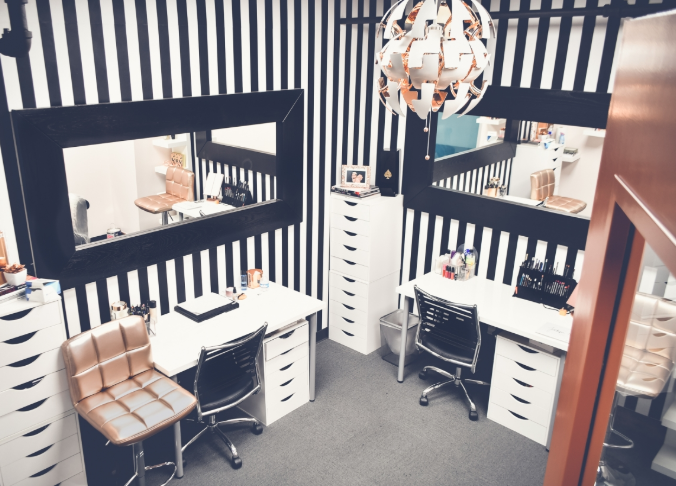 Credit: Novel Coworking
Novel offers several different types of memberships, from a standard coworking membership to a private office for over nine people. Their offices are one of the more affordable ones on our list. Plus, the space absolutely stunning with modern decor — the perfect place to create inspired work.
Location: 720 Rusk Street
Price: $99 regular membership; $199 individual desk; $299 shared office; $399 private office
Perks: Espresso bar, local beer on tap, mail service, private offices, event space, meeting rooms with whiteboards and video conferencing,
Hours: 24/7
West Houston
Avalon Suites offers memberships in terms of leases, perfect for those looking to get their companies off the ground. To accommodate all types of members, they offer four, six, and 12-month lease agreements, as well as virtual memberships. You can even take a virtual tour online to see if the Avalon Suites' office spaces are right for you.
Location: 5850 San Felipe St #500
Price: Offices starting at $65
Perks: Fully furnished private office spaces, business meeting rooms, file storage, lounging sofas, complimentary coffee and tea, reception area, IT service
Hours: Monday through Friday 9 a.m. to 5 p.m.
Inside the beautiful Williams Tower — the fourth tallest building in Texas — is the Servcorp coworking community. The office space offers spectacular views of the city and the nearby outdoor Water Wall. Currently, you can test-drive a membership with one free day of building access.
Location: 2800 Post Oak Boulevard Suite 4100
Price: $50 virtual membership; $350 regular membership; $450 individual desk; $1,000 individual office
Perks: Free WiFi, landline phone and phone number for business purposes, online networking community, reception area, global IT department, printers, copiers, and scanners
Hours: Regular members have business-hour access from 8:30 a.m. to 5:30 p.m.; private desk and offices have 24/7 access
Workflo's business motto is to make everything in their space how it would be in Heaven. And with their modern decor, seating, and lounging areas, we're starting to see what they mean. Not only do they offer an open workspace and private offices, they also have a full library only available to members. Heavenly.
Location: 150 West Sam Houston Pkwy N
Price: $200 for basic membership; $450 for a personal desk; $1,150 for a private office; and $1,920 for a team office
Perks: Library with books to borrow, 34-inch monitors at every desk, business-class printers, private events, micro-roasted coffee, tea, water, and soda, pool, fitness center, break room, ping-pong table
Hours: 24/7 member access
East Downtown (EaDo)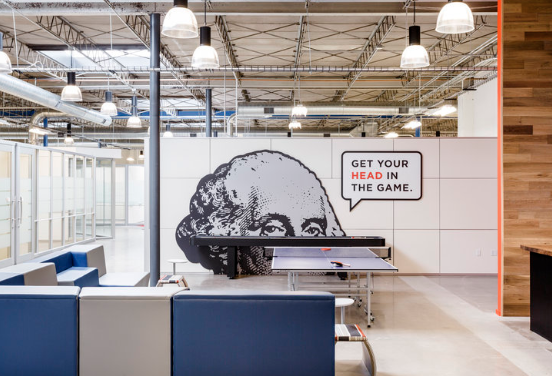 Credit: Headquarters
"We want you to love where you work," says Headquarters' site, and they mean it. The 35,000-square-foot coworking location with 18 foot-high ceilings and natural lighting makes for a comfortable and luxurious workspace. Headquarters was designed to give small businesses the feel of a corporate campus, which is why they offer yearly leases, rather than individual month-to-month contracts or day passes.
Location: 3302 Canal Street
Price: Rental spaces beginning at $1,000 a month, depending on the size of the company
Perks: Coffee shop in-house, on-site parking, 24/7 access, dog-friendly, courtyard with outdoor seating, full kitchen with free coffee and tea, game room with beer, ping pong, shuffleboard, darts, and Pacman, natural lighting, meeting rooms, and conference rooms
Hours: 24/7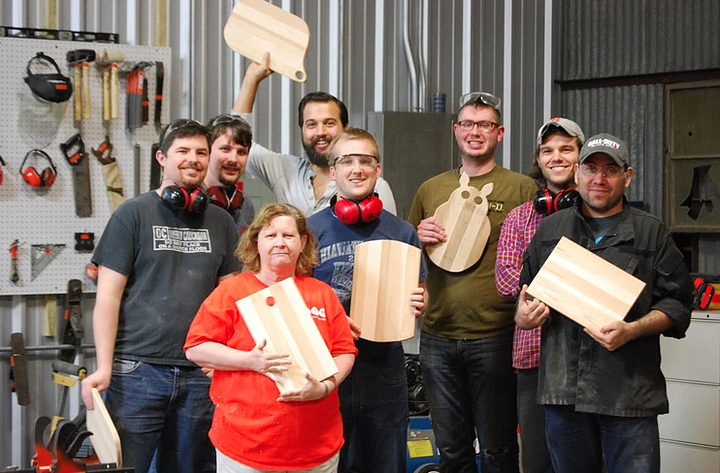 Credit: TX/RX
This nonprofit "makerspace" is perfect for those who like to work with their hands. With everything from woodworking to welding to screen printing, this space not only offers classes to teach you the skills, but they also offer events to connect you with people interested in the same fields. Certain memberships will give you access to the tools you need, while others will simply allow you to work in their space and meet the other members.
Location: 205 Roberts Street
Price: $50 for limited membership; $90 regular coworking membership; $210 to use specific equipment
Perks: Professional development programs, job training, a variety of classes offered daily, community blog, networking events
Hours: Monday through Friday 10 a.m. to 10 p.m., Saturday 9 a.m. to 8 p.m., Sunday 10 a.m. to 7 p.m.
The Heights
The CoWork Lab is a no-nonsense communal workspace. They keep their prices low by giving you basic membership options with only the essentials for a productive work environment. And for those of us who travel for work (or for pleasure), this entrepreneurial gathering place offers you access to other coworking spaces in their networks.
Location: 2500 Yale Street Suite B
Price: $29 virtual membership; $89 basic membership; $499 private office space
Perks: Free coffee, access to professional meeting rooms, printing, mailbox away from home, networking events
Hours: 24/7 access for premier members; 9 a.m. to 5 p.m. business-hour access for basic members
North Houston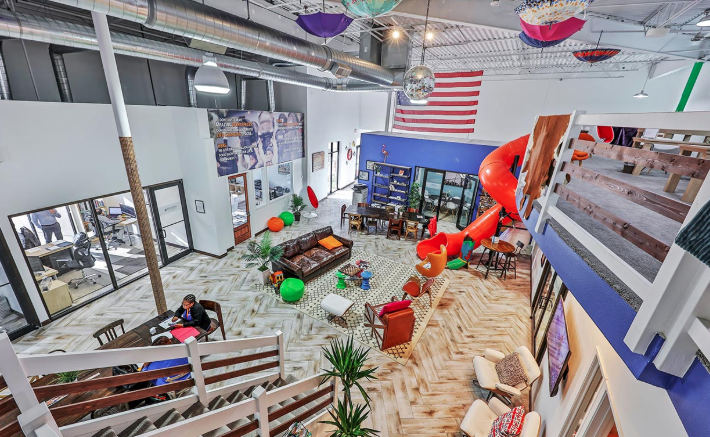 Credit: The Work Lodge
The Work Lodge created an environment to inspire the utmost creativity and productivity for its members (members undergo a background check before they are accepted). Not only does The Work Lodge strive to help the lives of the people they provide space for, they also partner with The Gabriel Foundation, a 501(c)3, which builds homes for orphaned children in Houston and other parts of the world.
Location: 118 Vintage Park Boulevard #W
Price: $79 for virtual membership; $249 regular coworking membership
Perks: Community events, happy hours, training events, mailing services, fruit-infused water, free coffee, lounge areas
Hours: 24/7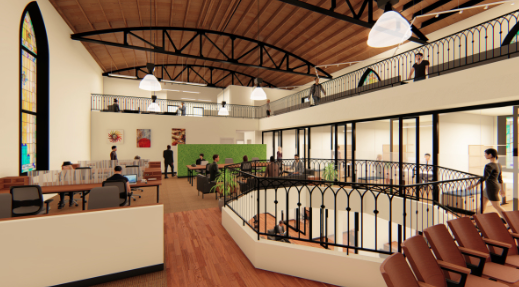 Credit: Workplace 1919 Located inside a newly renovated building from 1922, this now modernly rustic workspace offers several membership options and private desks surrounded by stained-glass windows and hardwood flooring. One member raved, "The space is quiet, clean and allows me to conduct my geophysical consulting duties in comfort." What more could you ask for?
Location: 1919 Decatur
Price: $500 for an individual desk; $950 for a private one-person office; $1200 for a two-person office
Perks: Full kitchen, complimentary coffee, tea, and filtered water, 24-hour security, nearby free parking, conference rooms available for reserving,
Hours: Monday through Friday 8 a.m. to 6 p.m.
South Houston
This shared workplace for startup companies focuses on those in the healthcare industry. Housed inside the Texas Medical Center, members are matched with advisors who can best fit their needs and help them grow their business. In order to become a member, though, you must submit an application and specify your career goals in the medical field.
Location: 2450 Holcombe Boulevard
Price: Pricing available upon application acceptance
Perks: Auditorium event space, classroom-sized event space, program advisors, networking opportunities, curriculum, private meeting rooms with monitors and Apple TVs, common area with kitchen, complimentary printing services
Hours: 24/7
Local Office's motto is simple: focus on your business, grow your team, belong to a community. They offer several flexible membership options to meet every person's specific needs and prices. And if you're not sure whether the coworking lifestyle is for you, you can get your first day of coworking here free.
Location: 2617 Bissonnet Street Suite 200
Price: $25 day pass; $199 regular membership; private office prices available upon request
Perks: Complimentary drinks, complimentary snacks, fully furnished offices, parking, conference rooms, notary service, dog-friendly, phone booths
Hours: 24/7