Events in Houston and other Houston Events for Networking
NASA Astronaut Luncheon
July 7 @ 11:00 am

-

1:00 pm

CDT
Join us in honoring the 50th Anniversary of the Apollo 16 moon landing with an Apollo 16 & NASA Astronauts, and JSC Director.
Our annual Unapologetically American Day is Thursday, July 7, 2022. This year, we are honoring the 50th Anniversary of the Apollo 16 Moon Landing.
We are pleased to be hosting our special guests Apollo 16 Astronaut Charlie Duke, the youngest man to walk on the moon, Johnson Space Center Director Vanessa Wyche, and active NASA Astronaut Randolph James "Komrade" Bresnik.
To learn more about the Apollo 16 mission, go to www.nasa.gov/feature/50-years-ago-apollo-16-launches-to-the-moon.
TICKETS
Downtown Rotary Club of Houston members are entitled to one (1) free ticket per paid member.
Corporate members are entitled to five (5) tickets. Visitors and guests must purchase a ticket at $50.
*** If you are ordering more than one (1) ticket, please ENTER EACH ATTENDEE'S NAME for faster event check in. ***
All credit cards and PayPal accepted. Valet parking included.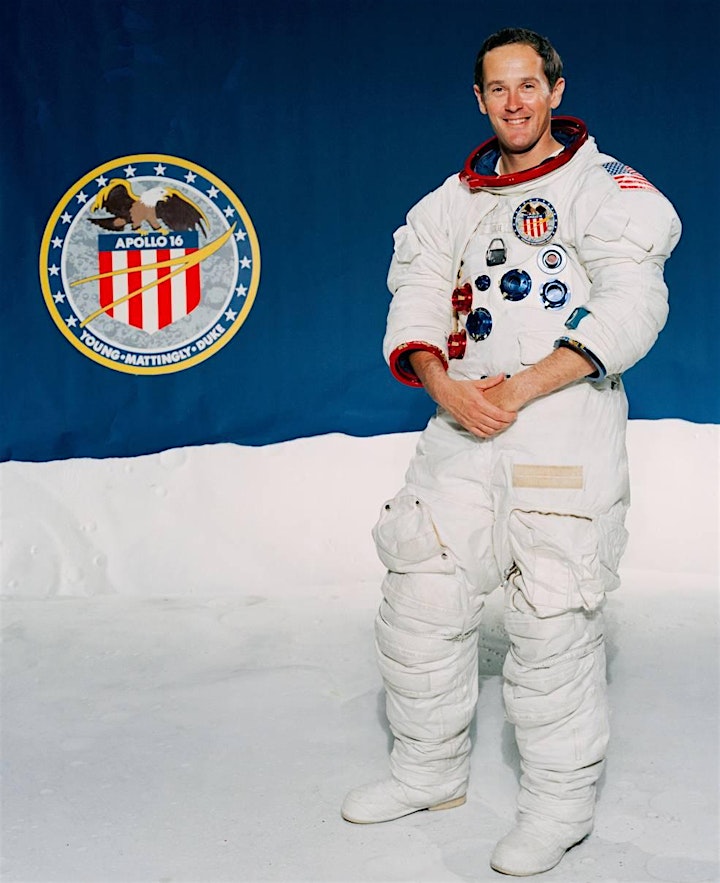 Charles Moss Duke Jr. (born October 3, 1935) is an American former astronaut, United States Air Force (USAF) officer and test pilot. As lunar module pilot of Apollo 16 in 1972, he became the tenth and youngest person to walk on the Moon, at age 36 years and 201 days.
A 1957 graduate of the United States Naval Academy, he joined the USAF. He completed advanced flight training on the F-86 Sabre at Moody Air Force Base in Georgia, where he was a distinguished graduate. After completion of this training, Duke served three years as a fighter pilot with the 526th Fighter-Interceptor Squadron at Ramstein Air Base in West Germany. After graduating from the Aerospace Research Pilot School in September 1965, he stayed on as an instructor teaching control systems and flying in the F-101 Voodoo, F-104 Starfighter, and T-33 Shooting Star.
In April 1966, Duke was one of nineteen men selected for NASA's fifth group of astronauts. In 1969, he was a member of the astronaut support crew for Apollo 10. He served as CAPCOM for Apollo 11, the first crewed landing on the Moon. His distinctive Southern drawl became familiar to audiences around the world, as the voice of a Mission Control made nervous by a long landing that almost expended all of the Lunar Module Eagle descent stage's propellant. Duke's first words to the Apollo 11 crew on the surface of the Moon were flustered, "Roger, Twank…Tranquility, we copy you on the ground. You got a bunch of guys about to turn blue. We're breathing again. Thanks a lot!"
Duke was backup lunar module pilot on Apollo 13. Shortly before the mission, he caught rubella (German measles) from a friend's child and inadvertently exposed the prime crew to the disease. As Ken Mattingly had no natural immunity to the disease, he was replaced as command module pilot by Jack Swigert. Mattingly was reassigned as command module pilot of Duke's flight, Apollo 16. On this mission, Duke and John Young landed at the Descartes Highlands, and conducted three extravehicular activities (EVAs). He also served as backup lunar module pilot for Apollo 17. Duke retired from NASA on January 1, 1976.
Following his retirement from NASA, Duke entered the Air Force Reserve and served as a mobilization augmentee to the Commander, USAF Basic Military Training Center, and to the Commander, USAF Recruiting Service. He graduated from the Industrial College of the Armed Forces in 1978. He was promoted to brigadier general in 1979, and retired in June 1986. He has logged 4,147 hours' flying time, of which 3,632 hours were in jet aircraft, and 265 hours were in space, including 21 hours and 38 minutes of EVA.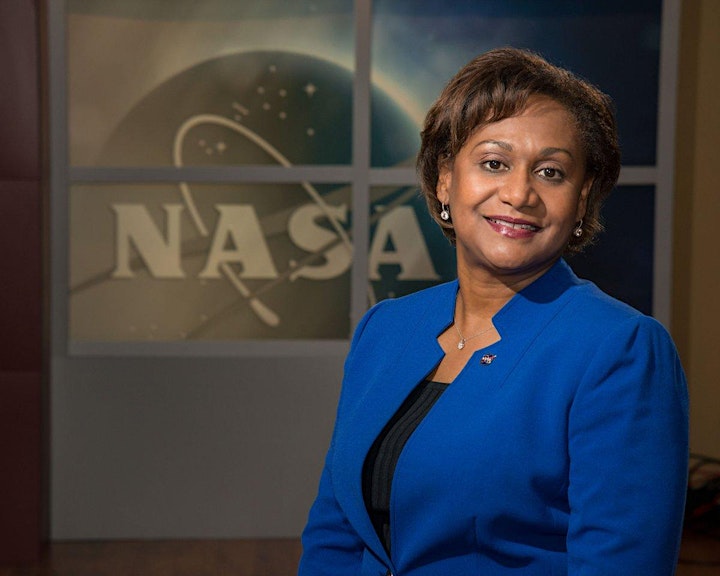 Vanessa E. Wyche is the director of NASA's Johnson Space Center, home to America's astronaut corps, Mission Control Center, International Space Station, Orion and Gateway programs and its more than 10,000 civil service and contractor employees. She is responsible for overseeing a broad range of human spaceflight activities, including development and operation of human spacecraft, commercialization of low-Earth orbit and Johnson's role in landing the first woman and first person of color on the surface of the Moon.
Wyche previously served as deputy director at Johnson, a position she held since 2018. Other key leadership positions include: assistant and acting deputy director of Johnson; director of the Exploration Integration and Science Directorate, flight manager of several missions of the retired Space Shuttle Program, executive officer in the Office of the NASA Administrator, and led additional center-level technical and program organizations. Before joining NASA in 1989, Wyche worked for the Food and Drug Administration in Washington D.C.
A native of South Carolina, Wyche earned a Bachelor of Science in Engineering and Master of Science in Bioengineering from Clemson University. In recognition of her contributions to the engineering profession she was inducted into the Thomas Green Clemson Academy of Engineers and Scientists at Clemson University in 2019.
Wyche is a passionate promoter of science, technology, engineering, and math (STEM), and serves as a member of Clemson University's College of Engineering, Computing and Applied Sciences advisory board, the University of Houston's C. T. Bauer College of Business advisory panel, the Houston Exponential board of directors, and is a past chair of the Space Center Houston board of directors. She is the recipient of two NASA Outstanding Leadership Medals, two NASA Achievement Medals and is a current fellow of the International Women's Forum.
Wyche is married to George Wyche Jr. Esq, and has one son, George Wyche III.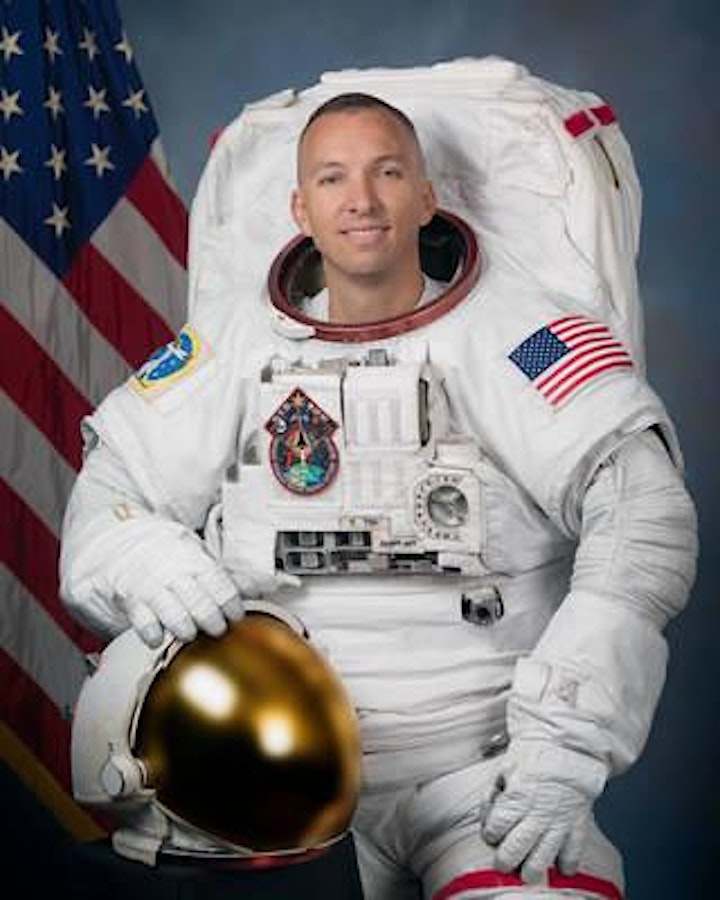 Randy "Komrade" Bresnik was selected as an astronaut in 2004. He was commissioned as a Second Lieutenant in the U.S. Marine Corps in May 1989. During his military career, he became an F/A-18 Test Pilot and was eventually deployed to Kuwait to fly combat missions in support of Operation Iraqi Freedom. A veteran of STS-129, he has also trained as a Cave-a-naut with the European Space Agency to test living deep beneath the Earth's surface as well as an Aquanaut for NASA's Extreme Environment Mission Operation (NEEMO) 19. Bresnik most recently served as the Commander of the International Space Station for Expedition 53 and flight engineer for Expedition 52.